There are so many ways to have fun with your family around the Holidays. However, it's very easy to get caught up in the stress and crazy-busy schedules during the Holidays that we forget to stop and have some fun. (What do you mean we forgot to get a present for your Spanish teacher? Why has the cat eaten all of the curling ribbon? I can't wait for that gift to come out. Where did I put the Christmas cards that I bought last January on sale?) So, as a way to remind myself to plan some fun for the family every day during the Holiday Season and not become the Grinch, I will be sharing some fun ideas every day. From reading Holiday-themed books before bedtime to watching your favorite Christmas specials to finding that perfect craft or cookie recipe, I hope I can inspire you to do something every day to keep your family smiling during December. Smile and wave kids … smile and wave.
DAY 1 Holiday Family Fun Ideas

Read: Tonight we read Bear Stays Up for Christmas by Karma Wilson and Jane Chapman. While my kids are a little too old for this picture book, it is still a Holiday favorite. The illustrations are too cute and the rhyming words are perfect for lulling everyone to sleep. (I want some of the cookies that Bear makes his friends!)

Watch: We didn't have a lot of time to watch anything after dinner and homework but we snuck in one of my all time favorite Christmas shows – Ziggy's Gift. I was a huge Ziggy fan growing up and the first time I saw this Christmas special I was bawling. Guess what?After watching again tonight, I'm still tearing up. I love this story about the true meaning of giving and forgiveness at Christmas. My kids love the thief. Go figure.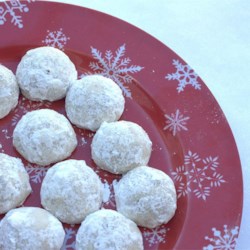 Bake: We are in the process of renovating our kitchen and haven't had an oven for about 6 weeks now. Because I can't bake, I have been dreaming about homemade Holiday cookies for several nights now. But if you have an oven, go ahead and make these with your kids. They love rolling the cookies into a ball and then rolling them in powdered sugar. Sure, it makes a mess. Sure, these cookies are pure butter. But that's why I love them. Here's a recipe that is close to how we make them, only we use ground pecans because the kids don't like the texture of nut pieces in the cookie.
Craft: I've been on the hunt for some really cute but really easy Holiday crafts to do with the kids. You know the kind where I don't need to spend all day shopping for supplies, doesn't take three days of drying time to complete, and actually looks cute when finished. Well I found a fun site called Homemaking Fun and I liked their idea for making Magical Reindeer Food to sprinkle in the snow. If you are lucky, you'll have everything you need in the house already.

Pure Fun: If your family has adopted an Elf on the Shelf, tonight is the night to start. At least in our house it is. (Some people start the day after Thanksgiving, some on December 6th which is St. Nicholas Day, and some on the 15th because they only want to hide the Elf for 10 nights.) You choose. Never heard of Elf on the Shelf? Well, this post explains it all.
We'll be sharing ideas every day for 25 days but we'd love to hear your favorite way to have fun during the Holidays. Please share them by leaving a comment here. Check back tomorrow!