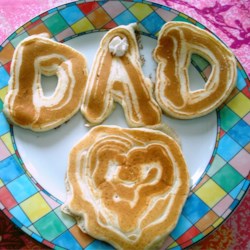 This summer get all silly with it and make breakfast food for dinner. It doesn't matter how old your kids are, they still love messing with the "norm." Idea #6 in our 51 Ideas for Summer Family Fun Activities is cooking pancakes for dinner with the kids.
Pancakes. They're not just for breakfast anymore. It's a fun way to shake your family's day but, don't just make your regular old pancake recipe. Do something fun -shapes, colors, extras. I remember my Dad used to make Mickey Mouse pancakes for my brother and I. We loved it and it was a tradition that is a fond memory still today.
Shapes: For fun shaped pancakes, buy pancake molds at kitchen supply stores or old cookie cutters that can lay flat on a griddle. Fill them with batter and amaze your kids. You can buy a Pancake Pen or use an old, clean condiment squirt bottle to "draw" pancake shapes on the griddle. You don't need any special tools to make Mickey Mouse or bear shaped pancakes. Just make a larger circle and then two smaller circle pancakes and put them together on the plate to make your faces.

My son loves Star Wars so when we saw the new Star Wars pancake molds at Williams Sonoma, we ran out to get them. We added green food color to some of the batter to make the Yoda pancake shapes. (We liked these molds because they actually laid flat. We have bought molds before that weren't completely flat and the batter leaks out to the side. Not cool.) How did we do?
Click here to see the coolest pancakes ever for inspiration.
Colors: Add food coloring to your pancake batter to make colored pancakes. Use a variety of colors and overlap them on the plate to make a rainbow. iammommy.com has a recipe for some awesome Rainbow Pancakes. Depending on the shapes you are using, choose a matching food color to enhance the design. If you are going to add some whipped cream to your pancakes (this is incredibly delicious with pumpkin pancakes), you can also color the whip cream.

Extras: For the Piece de Resistance, add some fun "extras" to your pancakes like Hershey kisses for eyes, red hots for buttons, cherries, bananas, baked apples, and M&Ms. Go wild. Use a piece of bacon or sausage link for the mouth.
What's great about cooking pancakes is that it's a perfect meal for kids to help out. They can put the ingredients in the bowl, stir, and decorate with the special ingredients at the end. To help make your time in the kitchen together even more fun, get your kids their own cooking apron. My son loves to cook and we were frustrated that most of the kid-sized aprons were all girlie, so we went and found some boyish kids aprons that we know you'll love too.
Here's a basic recipe for pancakes.
Send me a photo of your pancake creations to sue (at) chocolatecakeclub.com. I'd love to include it on the blog.
Made the Dad pancakes for my husband for Father's Day! It turned out really cute and we different than the normal circles. The directions worked great, we found mustard and ketchup bottles two for a dollar and the Dollar Store. Thanks for the idea! We had a great time!

Hi Misty,

How cool! I'm glad you were able to find the supplies and surprise Dad. I'm sure he was thrilled.

Sue

[…] 6. Have Pancakes for Dinner […]

[…] Might Also Like: Fun Pancake Recipes Fun Halloween Cupcakes for Kids Homemade Pizza Recipe for Family Pizza […]
RSS feed for comments on this post. TrackBack URL
Leave a comment