I love snowmen. To me, they are the ultimate celebration of snow. As a kid, and now as parents, when the first wet snow of the season arrives, the first thing we do to celebrate is build a snowman. There is a certain satisfaction to creating something out of nature. It's an homage to the season. A statue to stand guard during the harsh winter. To wave at you from the window when you are stuck inside. Ok, maybe that's going too far but it's also a great way to have fun and be creative as a family.
I love the Calvin & Hobbes strips where Calvin built snowmen getting decapitated or run over by cars. Sure it's gruesome but I love the creativity. Your snowman doesn't have to be a snowman with a scarf and sticks for arms. Think creative.  Make a snow pirate, snow bear, or I think our best snowman as a family was actually a snow dog that looked like a snow mouse.
To build the perfect snowman, you need a plan. Is it a snow man or a snow mouse or even a snow fort? How big do you want it to be? How are you going to accessorize this new friend? Discuss the details while you are inside and warm. Then head out into the cold for the construction phase.
An adult might need to start the snow ball going but there are plenty of ways for the kids to help, no matter what their age. Here are some great instuctions on how to build a snowman. Our kids new favorite thing is to take a spray bottle, add water and a few drops of food coloring and go outside and "color" the snow.
Here's some more snowman fun:
Read Stranger in the Woods. This is one of my kids favorite books! Beautiful nature photography, cute story, and it teaches kids to help animals. What more could you want from a winter bedtime story?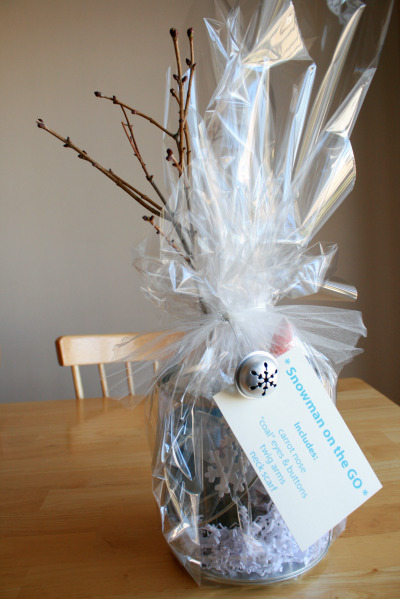 Best yet, give another family the gift of having fun together by making them a snowman kit. Marie at Makeandtakes.com came up with a great Snowman Kit to give as a gift. Your family will have fun making the kit and the other family will have fun creating. A snowy win-win!
Send me a photo of your favorite snowman creation at sue (at) chocolatecakeclub.com. I'd love to post it here on the blog.
[...] This post was mentioned on Twitter by suekirchner, Kidgrade. Kidgrade said: The joy of building a snowman Chocolate Cake Moments http://fb.me/QnQQbh8l [...]

[...] outside, the fresh air and Vitamin D from sunshine will do you and your kids a whole lot of good. Building a snowman, sledding and walking up the hill afterwards, and snowball fights definitely help burn calories and [...]

… [Trackback]

[...] Find More Informations here: chocolatecakemoments.com/the-simple-joy-of-building-a-snowman/ [...]

… [Trackback]

[...] Read More: chocolatecakemoments.com/the-simple-joy-of-building-a-snowman/ [...]

… [Trackback]

[...] Read More Infos here: chocolatecakemoments.com/the-simple-joy-of-building-a-snowman/ [...]

Thank you

What computer software were computers using before Microsoft was invented? I googled it and couldn't find any info on it. Thanks and no jokes or dissing please..
RSS feed for comments on this post. TrackBack URL
Leave a comment