Happy Earth Day! Isn't the picture my 8-year-old daughter drew for Earth Day cool? We hope you enjoyed all of our ideas for celebrating Earth Day with the kids. Here's are three more fun ways to celebrate.



First, join Earth Day 2011's Picnic in the Park initiative. As they say on their site, "celebrate the planet we live on with good food and great people. Choose a favorite outdoor location, round up some friends and take the planet out to lunch!" Check out their website to find picnics already planned to join in or grab some great picnic recipes from famous Chefs like Mario Batali. (The Goat Curd and Fruit Tart looks especially yummy!) Here are my tips on how to plan the perfect family picnic.
Heart Shaped Earth Day Crayons
Recycle your old crayons and turn them into heart shaped earth crayons. They look cool and you can start drawing again. The directions for how to make them come from Martha Stewart here but the TSJ Photography blog had the inspiration to make them look like the earth.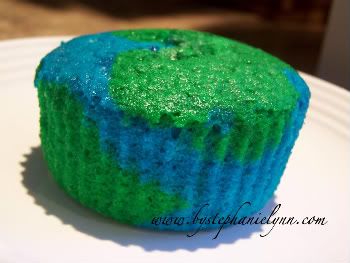 Earth Day Cupcakes
These earth day cupcakes by Stephanie Lynn over at the Under the Table and Dreaming blog are so cool. Definitely bake them with the kids and bring them to your Picnic in the Park. I like that they are gluten free.
We hope you enjoyed all of our Earth Day ideas! Go have fun celebrating.
No comments yet.
RSS feed for comments on this post. TrackBack URL
Leave a comment