Want a fun and easy craft idea to do with boys? Especially one you can use at a birthday party? Of course you do! I'll tell you it was hard for me to find a craft idea that my son would not only do with me but actually like. My daughter and I craft all the time – she's an incredible artist and she's always game for my wild crafting idea. My son likes to cook with me but we just couldn't bond over crafts – UNTIL NOW. For his birthday party last year I came up with a craft for a bunch of 11-year-old boys. While my husband and son laughed at me – "Why would you plan to do a craft at a boys' party?" – it was the HIT of the party. So, what is this miracle craft idea? (OK, I know I'm over-hyping it.)

THUMB WRESTLERS!


Cartoon network used to show these little short TV shows of thumb wrestlers that my kids thought were hilarious. You can see them on the Thumb Wrestling Federation site. We recreated the experience at the party by having the boys create their own thumb wrestling characters and then staging wrestling matches.
Here's what you need:
$1 stretchy gloves from Target, Dollar Store, etc. in various colors. Since it is Spring, now is the perfect time to stock up on them while they're on sale.
Different colors of felt – any scraps you have laying around work perfectly
Glue
Googly eyes
To make them, cut the thumbs and fingers off the glove. These are your "wrestler bodies." Next, glue on the googly eyes. Then have the kids cut out pieces of felt and glue them on to create costumes for their thumb wrestler. Give everything a good 5 minutes to dry before letting the wrestling matches begin.
"1-2-3-4! I declare a thumb war!" The thumb wrestling makes for very funny video. The best part of this craft is that it eats up a lot of time at a birthday party. First you make your thumb wrestler then the kids can spend a long time wresting. We even made a referee thumb guy to keep the peace.
Have you made thumb wrestlers before? I'd love to feature your or your kids' creations. Shoot me an email with the photo attached or a link to see the photo at sue(at)chocolatecakeclub.com.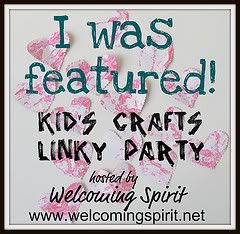 This is beyond cute, and I was actually laughing out loud at what fun your boys are having with the puppets. Would you share this on my Linky Party? It's focused on crafts for and by kids. I think it would fit right in!
Paula at Welcoming Spirit
http://bit.ly/wFcZCv

Love this! We just posted our Kitchen Fun and Crafty Friday link party and would love for you to stop by and share this…http://kitchenfunwithmy3sons.blogspot.com/2012/03/kitchen-fun-and-crafty-friday-link.html

Brilliant! I know what we're doing this weekend with my boys Thanks for sharing your idea, it's awesome.
I'd love for you to come in link this idea and any other goodies you have up to my *Get Creative* party this week
http://www.justalittlecreativity.com/2012/02/get-creative-party-3-and-fun-features.html
Hope to see you there!
-Molly

Thank you Paula, Jill and Molly! I'd love to come and share this idea on your Link Parties. I'm glad you like the idea.

Sue

This is HILARIOUS! I love it!!

Hooray! Your craft was picked at the "Editor's Choice" award this week at Welcoming Spirit's Kids Crafts Linky Party. I love these puppets Stop by and pick up your badge .. and thank you again for posting this awesome craft.

Paula

Thanks Paula! That's awesome.
RSS feed for comments on this post. TrackBack URL
Leave a comment