If your child is headed to kindergarten, middle school or high school this year, they may be nervous about what to expect. Hey, so could Mom, right? These are big transitions and your child may be excited and eager to go to the new school (for a few lucky parents) or anxious and unsure (for most). Here are some tips that we have gathered to help smooth the transitions and start the year off right.
Don't Miss Orientations.
No matter what grade your kids are entering this year, be sure to attend Back to School Nights and Meet the Teacher(s) events before school starts. It makes a huge difference to your child to see the teacher and other kids in their classroom to find a friendly face.
Transition to Kindergarten.
To help both you and your child feel secure and excited about going to kindergarten for the first time, you need to plan ahead. Some young children jump right in, acting as if they had been there all of their lives, but others are shy and scared. Try these ideas to make going to school as easy as possible.

Talk to the teacher.
Open lines of communication with your child's teacher prior to the first day of class. Give the teacher a call or an email to introduce yourself. Describe your child's interests and strengths, as well as areas of concern. Before school starts, attend the Back to School night and help your child locate the bathroom, their cubby and the playground. At our school, the kids like seeing their desk and putting their school supplies away ahead of time so when they show up on the first day of school, their desk is all ready to go.
Read books about kindergarten.
Reading together with your child is always one of the best ways to help them prepare for kindergarten. For kids who are anxious and don't know what to expect in this big transition period, books like "Let Get Ready for Kindergarten" by Stacey Kannenberg covers the alphabet, letters, rhyming, numbers, and shapes to help ease them into the school year. We like funnier books to ease our fears, so we enjoyed Jake Starts School.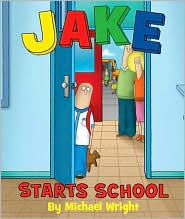 Be relaxed but excited.
Kids can sense any anxiety you may be feeling, so be sure to talk positively about school. Don't ask them if they are nervous if they haven't even considered that they need to be nervous yet. (Boy do my kids run with the power of suggestion so head it off at the pass.) Talk positively with your child about the fun they can expect in kindergarten, like learning new songs and playing games and recess, but don't focus on it too much or don't try to oversell the "play" part. School can be fun but it is for learning.

Practice makes perfect.
Kids will feel more secure if they know what to expect so practice walking to school or the bus stop. Or drive to the school and say, "This is where Mom will park or where the bus will drop you off and that is the door you will go into. Then this is where you will be picked each day." Bring your camera and some Kleenex for that first bus ride and ask another child to help them on the bus. Share tissues with the other moms because trust me, there will be tears. But be sure to send off your child with happy –not hysterical—tears. Or hysterical relief – that's not a good signal to send either.
Let them have a say.
Be sure to get their school supplies early and let the kids pick out a special folder or a cool back pack. Let them draw a picture of the family or a beloved pet to hang in their cubby, if allowed. Pick out the special "first day" outfit the night before and let them choose a part of it, such as a favorite shirt or funky socks. To remember this fond moment, take a picture of them on their first day. What's a better way to start making new friends than at the bus stop? Ask another child to help them on the bus or encourage your kids to introduce themselves.
Want to read more on helping your kids get back to the routine? Click here!
Saw the Sun-Times article I loved this post. I have custody of my now 4 year old grandson and what I thought I was done with is all new to me again as he begins full-time preschool this year after part-time special ed last year. Teacher orientation next week is first on my list.

Good luck with helping your grandson enter pre-school. It is an exciting time to see them taking a big step towards even more independence. I'm glad you liked the article and the post. Come back and talk with us again sometime soon.
RSS feed for comments on this post. TrackBack URL
Leave a comment