Here's another day's worth of fun ideas to do with your family this Holiday Season. Good tidings we wish to you, but no figgy pudding.

Watch: It's Friday night and the kids can stay up so you can watch a longer Christmas show, so let's start with a classic – Rudolph the Red Nosed Reindeer. Nothing reminds me more of Christmas as a kid then sitting in front of the TV waiting for the theme music saying that a special presentation was coming up and then watching Rudolph. In today's age of DVDs and DVRs, kids don't feel the same sense of "need" that we did growing up to not miss when the show was airing on TV. We had to stay home and be glued in front of the TV when this all important show was on. I think I can recite all of the lines to this one. My favorite character is Yukon Cornelius, of course. "Put some heart into it boy!" But I also love the Burl Ives score as he sings Silver and Gold. Leave a comment below and tell me about your favorite scene is.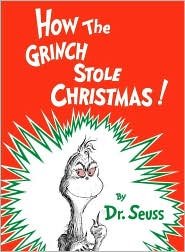 Read: The Grinch. Enough said. (We'll recommend watching it too in a different post but it is definitely worth reading the book as well.)


Bake: My second favorite Christmas cookies, that also remind me so much of my youth, were Spritz Cookie-Gun Cookies. (They call them cookie presses now but we always called it a cookie gun growing up.) My mother made these every year and I love them. However, I haven't made them as an adult because I can never find a good cookie press. My brother made them last year when our family visited last Christmas and I think I must have eaten 4 dozen of them they just reminded me so much of childhood. We loved decorating them as kids. My favorites were the little flowers with the cinnamon hearts in the center. Grab a cookie press, check out this recipe and introduce your kids to the magic of squeezing tasty dough out of a tube into shapes. They are muy tasty.

Craft:Make these adorable Penguin Christmas ornaments, which we found over at Kaboose. http://crafts.kaboose.com/penguin-pals-ornaments.html
Pure Fun: More computer fun for the kids. Go to http://www.northpole.com/ and see all of the games and Christmas related activities. We liked the dancing Santa.
Leave us your ideas on how to have fun with your family during the Holidays or tell us what your remember about your childhood Christmas.
No comments yet.
RSS feed for comments on this post. TrackBack URL
Leave a comment